Chapter President's Update 02-19-2016
Posted: 2/19/2016
Williamsburg – Virginia Peninsula Chapter
The Williamsburg Chapter's Board has decided to expand its area of participation to include the geographical area from New Kent County to Hampton and be more inclusive of all alumni. To reflect that change we are in the process of changing our name to "Virginia Peninsula".  Steve Jasper is developing our new website, check us out:  http://vapeninsula.usnachapters.net/
December 12th we met at the Governors Land Two Rivers Country Club for our annual Army – Navy game get together. This is a great setting with a fine view of sunset on the James River usually about the time Navy has beaten Army. For the first time in many years our comrades from West Point did not join us.  Maybe they will join us this next year since Army's chances of winning might be better?

As a part of our expansion Steve Jasper and Howard Russell hosted a Happy Hour at the 2nd Street Bistro in Newport News on Thursday January 28th.  We plan on doing this regularly on a bimonthly basis; our next one is on Thursday March 24th.  In attendance were Spence Witten'78, Kevin Joyce'03, John Hilt '59, Lou Gomez'85, Larry Raithel'76, Tim Moon'79, Chip Jones'79, Steve Jasper'74 and Howard Russell'71.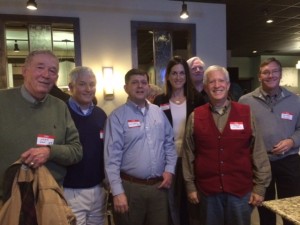 February 13th we held a Dark Ages Luncheon at the Peter Chang Restaurant (www.peterchangrestaurant.com ) in Williamsburg. Four members shared their stories of their new ventures in "retirement".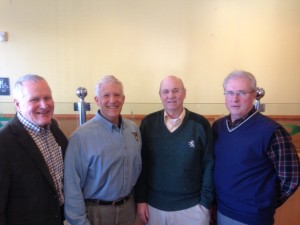 Al Whitaker'60 is an owner of our local microbrewery; AleWerks (http://alewerks.com/). Al explained his keen interest in beer from an early age, how AleWerks began, recreating the Colonial Williamsburg historical beers, AleWerks recent expansion with a tasting room / patio and plans for doubling their capacity this year.
Spence Witten'78 recently returned to Williamsburg. He explained and his current project of renovating the family home his Grandfather built and where his Mother was born.  Spence's family estate has 35 acres and will open as a Bed & Breakfast soon.  Meanwhile Spence also invested in an excellent new local restaurant: Cochon on 2nd Street. www.cochonon2nd.com
Bill Riffer'68 is very active in the William and Mary Christopher Wren Society (http://www.wm.edu/sites/cwa/?svr=web) as both an instructor and on the Society's management team. This is a very popular William & Mary offering for retirees to attend outstanding college courses.  Bill's "History of Submarine Warfare" fills up immediately each time it is offered.
Mo Gauthier'69 shared how he and his wife became owners of an Equestrian Center and Vineyard in New Kent County ( www.gauthiervineyard.com). We plan on visiting the Gauthier Vineyard on April 16th for a wine tasting and again October 8th when they cohost a Veterans benefit.  During the week Mo stays busy being the CEO of VSE Corporation.
Ben Francisco