Events, News & More
Chapter President's Update 12-01-2017
Posted: 12/1/2017
We will gather for the Army – Navy Party, Saturday, December 9th 3:00 at Paul's Deli in New Town, Williamsburg to watch the game and cheer on our team.  Since Navy will be the only major sporting event on television, we will have plenty of room for everyone to bring family and friends.  It is a pay as you go food and drink menu with plenty of choices and great ambiance.
For 2018 we are planning a VA Peninsula Chapter event every other month.  We will vary the locations up and down the Peninsula to encourage new members and explore new venues.  We invite anyone interested in taking the lead or assisting on any event to step up.  We also encourage you to promote the VA Peninsula Chapter to alumni who may in the area but are not currently active in the Chapter.  We offer a way to connect with old friends and meet new ones on the greater Peninsula.
Tentative 2018 Schedule:
January will begin the year with a VA Peninsula Chapter organizational luncheon to review our current status, discuss ideas and refine plans.  We will meet at Center Street Grill, 5101 Center St, Williamsburg at 1:00 Saturday January 20th.
March – we are working details for either a luncheon, brunch or dinner at James River Country Club in Newport News.
May – We are arranging a Gauthier Vineyard tour and wine tasting in New Kent County where we will invite the Hampton Roads Chapter (HRC) to join us again.  This tour continues to receive rave revues.  May is also the Plebe Recognition Dinner in Norfolk hosted by HRC.
July – To escape the summer heat, we will be spearheading some family fun at the new indoor golf tavern, Revolution Golf and Grille, 1430 High St, Williamsburg.
September – Congressman Wittman (R-VA) luncheon at Patriots Colony in Williamsburg.  Congressman Wittman is President of the Academy's Board of Visitors and a key member of the House Shipbuilding Caucus.
Oct/Nov – Founders' Day Luncheon, Brunch or Dinner at Riverside in Old Yorktown.
December – Army / Navy Gaem 2018.
Please forward suggestions and questions anytime.
Ben Francisco
Chapter President's Update 08-28-2017
Posted: 8/28/2017
Greetings, The USNA Peninsula Chapter is ready for Navy football season and Founder's Day. We wanted to update you on some Chapter news as well as some of the events we have in the upcoming weeks so you can mark your calendars. We also want to let you know we are always looking for ideas and offers to help. Last year Diana Logan offered an idea for a luncheon and she ran with it. As a result we had an excellent affair at La Tienda with a Valentine's theme last February. Please email any suggestions to: me (roger.benton.francisco@gmail.com), Steve Jasper (stevejasper0@gmail.com) or Kathleen Jabs (kjabs@aol.com)
Upcoming Events:
USNAA Peninsula Chapter will sponsor Founder's Day Luncheon
Who: Guest speaker: RADM Brian Antonio '83, PEO Aircraft Carriers
What: Founders' Day Luncheon
When: Friday, September 29, 2017
12:00 gathering; 12:30 keynote; 1:15 luncheon
Where:  Cochon on 2nd; 311-106 Second St; Williamsburg, VA 23185
Cost:  $30 (each) for Chapter members & 1 guest; $37 for others.
The luncheon flyer with more details and a bio will be emailed next week and also posted on our Chapter site (http://vapeninsula.usnachapters.net)
Navy Football at Paul's Deli – First Game, Friday, Sept 1, 8:00 pm
This fall we encourage you to stop by Paul's Deli in New Town, Williamsburg whenever Navy is playing football.  Some of us will go early and grab a corner table and have the game set on the TV nearby.  The first game is vs FAU Friday, Sept 1, 8:00 pm.
Army-Navy Game at Paul's Deli – Saturday, Dec. 9, 2018, 3:00 pm kick-off
We plan on holding our Army – Navy get together at Paul's Deli. Steve Jasper '74 talked with Tucker, their manager, and we should have no problem taking as many tables and TVs as desired.
News:
Jack Greenhalgh '60 will retire from the board after many years. We greatly appreciate his work and his advice as we restarted the Chapter over the past two years. He has been the link in the chain from the charter members that founded our chapter several years ago.
We have over $3000 in our account and intend to maintain that level.  At the start of each event we'll have a quick update on expenditures and plans.  This past year we spent $10 per person for new nametags, $300 for Plebe Recognition Dinner and donated $300 to Honor Flight. We plan to donate to the honor flight again this year
Kathleen Toomey Jabs '88 has joined the board to help with Communications.
Gary Carlile '73 will assume duties as assistant Treasurer in December.
Past Events:
We had more than 50 people attend the luncheon with Congressman Wittman (VA-1) on Monday, June 19, at Patriot's Colony. Congressman Wittman spoke eloquently about shipbuilding, the state of the Navy, and his role on the Seapower Committee as well as taking questions from the audience on a variety of subjects. We had some last-minute confusion about the event being for Chapter Alumni only.  We'll work harder to communicate better!
Thank you for your service and attention to the chapter. We're always looking for new members and new ways to connect.
Go Navy!
Ben, Steve & Kathleen
Chapter President's Update 03-03-2017
Posted: 3/3/2017
On Sunday Feb 19th we held a luncheon at LaTienda in Williamsburg.
Don Harris talked about his career as a Navy Chaplain and how he gained an extensive knowledge of Spain, its culture and especially its fine food.
Upon retirement from active duty Don found himself in the Spanish import business which soon evolved into his current Spanish Market and Tappas restaurant.
If you are interested in outstanding authentic Spanish food try LaTienda, of if you are thinking of travelling to Spain, stop in and ask Don for advice.  You will enjoy the time you spend engaging Don in conversation.
In early January we conducted a membership drive and had 35 alumni sign up and pay dues for 2017.  This has helped us focus on our core constituency based in James City County.  Our members receive discounts at Chapter events and also a free luncheon with Congressman Wittman at Patriots Colony at Williamsburg (PCAW).
Our 2017 calendar has a tour of Gauthier Vineyards followed by wine tasting on
May 6th
.  Mo Gauthier '69 will show us his new wine cellars and host the wine tasting.  It is rumored a few of his classmates and a room mate will drive up from Tidewater and join us.
June 19th
Patriots Colony will host a free luncheon for current members with Congressman Wittman as our Keynote Speaker. He has served as Chairman of the U.S. Naval Academy's Board of Visitors since 2010.  Congressman Wittman serves as the Chairman of the Seapower and Projection Forces Subcommittee.  In addition, as Co-Chair of the Congressional Shipbuilding Caucus, he is a staunch advocate for a robust Naval fleet and a healthy domestic shipbuilding industry.
Late July / early Aug we are planning a cookout to include families.
October will be our Founders' Day Celebration at a local restaurant with PEO Carriers as our tentative Speaker.
December we will gather at a local Williamsburg location for our annual Army / Navy party.
If you have any suggestions or questions contact me anytime.
Ben Francisco
Chapter President's Update 01-27-2017
Posted: 1/30/2017
Here's what's happening in the VA Peninsula Alumni Chapter:
The Alumni Association requires submission of our active membership list by
January 31st
, therefore request a note and check if you intend to be a member this year.  Currently about half of us have paid our 2017 dues of $20.  Members get a discount on events and our free PCAW luncheon will be a members only event this year.
Send your notes & checks to me:
USNAAA VA Peninsula Chapter
c/o Ben Francisco
3 Popeley Court
Williamsburg, VA 23188
Our Valentine Luncheon is at LaTienda on
Sunday Feb 19th
.
Don Harris, the owner will speak to us about his Naval career and how he transitioned to being a Spanish food store & restaurant owner.
The cost per person will run us about $32, however, members will pay $25 for themselves and their guest.
Request RSVPs by
Feb 15th
so I can turn in a good head count.
Request your ideas for events, speakers, charities, and Chapter business in general.
You can email me anytime or call/text after hours.
757-784-0786
.
2017 events being planned:
06 May we will visit Gauthier Vineyards along with members of the Hampton Roads Chapter
May Plebe Recognition Dinner
Jun possible barbeque / golf / picnic
July free Luncheon for 2017 members at PCAW with keynote speaker
Sep / Oct Founders Day Celebration Luncheon at local restaurant with Congressman Wittman
Dec Army – Navy game party in Williamsburg (site TBD)
The May event is a joint event with the Hampton Roads Chapter, they do a superb job hosting the Plebe Recognition Dinner and we reciprocate by inviting them up to our May event.
In addition we will post Navy Sports in the area on our website;
the next event is Men's gymnastics @ W&M
Friday March 3rd at 6:00
.
Chapter President's Update 10-04-2016
Posted: 10/4/2016
Subject: USNAAA Virginia Peninsula Chapter update October '16
This year we updated our Chapter's bylaws and stayed in line with the standard template that the Alumni Association provided.  This process resulted in 3 changes from the past:
Widows are now life members of our Chapter for free.
We are authorized to invite a couple of people to join our Chapter as Associate Members. These can total up to 10% of our total membership, or 4-5 generally.  Utilizing the Alumni Association's guidance … "Prospective Associate Members are nominated for membership based on having demonstrated active support of the Naval Service, the Naval Academy, or the Alumni Association…"  we invited 2 people locally to become our initial Associate Members.
Our name changed to "Virginia Peninsula Chapter"; this was intended to reflect our desire to include alumni throughout our peninsula from New Kent / Charles City down through Hampton / Newport News Counties.
This past year we diversified the format and had a few successful events: from the Army – Navy game at Two River's CC to visiting Gauthier Winery and an AleWerks Microbrewery tour.  We also had a Dark Age's get together for lunch at Peter Chang's restaurant where Mo Gauthier talked about starting up a winery, Al Whitaker explained his expertise in beer and shared the latest news from AleWerks, Spence Witten told us about turning his family's homestead into a Bed & Breakfast and Bill Riffer shared his insight on Christopher Wren, having been very active as an instructor and President.
Monday October 3rd we recently held our Founders Day Luncheon at Patriots Colony in Williamsburg.  Rob Wittman, our 1st district Representative was the Keynote speaker.  In the general Town Hall Meeting forum Rob shared his insights from inside the beltway.  During lunch he spoke about the recent changes at the Naval Academy along with their plans for change over the next several years.
Next on our Calendar is an Army – Navy Party at BJs Restaurant & Brewhouse in Newport News on Saturday December 10th.
We are soliciting ideas for 2017 and tentatively have:
A Williamsburg "Dark Ages" Luncheon 1st or 2nd Saturday in February. Possibly at La Tienda Best of Spain in Williamsburg.
Bi-monthly Happy Hours in Newport News at BJ's Brewhouse. We started to gain some traction this year and hope to grow participation at these Thursday after hours get togethers.
Some of our Golfers will be attending the Hampton Roads Chapter's spring and fall tournaments at Little Creek.
March luncheon / dinner event based on surveys & inputs.
Sponsoring and participating in the Plebe Recognition dinner at Sewell's Point in late May.
July event at a local microbrewery or winery. Night at the dog Track?
October Founders Day Luncheon with Congressman Wittman.
Financials:
If you haven't already; it is never too early to pay your 2017 dues.
You may send your check payable to:

USNAAA VA Peninsula Chapter
c/o Ben Francisco,
3 Popeley Ct,
Williamsburg, VA 23188.  
If you haven't been paying dues but enjoy the Chapter activities, please consider officially joining this year.  Current members get a free lunch at our Founders Day annual event, and a new Additionally, our Chapter donates money to Honor Flight, Tidewater Plebe Recognition Dinner and sponsors local prospective candidates for the Academy's Summer Program.
The Board is soliciting ideas and will continue to evolve in 2017.
I'd like to personally thank Jack Greenhalgh, Steve Jasper, Howard Russell, Rich Johnson and Dave O'Conner for all their work this year on our board.  We are currently looking for new board members; let us know if you would like to be on the board or even help arrange an event for next year.
Regards,
Ben Francisco
President / Treasurer
USNAAA VA Peninsula Chapter
(757) 784-0786
Roger.benton.francisco@gmail.com
Chapter President's Update 04-19-2016
Posted: 4/18/2016
Update 4-19-16
The Williamsburg Chapter is continuing the transition we started last year.
Our central theme has been to be more inclusive of Alumni throughout the Virginia Peninsula from New Kent County to Hampton.  This is an effort to make our Chapter more viable by offering a wider range of events and expanding membership.
Steve Jasper has developed our Chapter's website over the winter to enable you to keep an eye on Chapter news and upcoming events.  This is still evolving and will have more features later in the Autumn.
http://vapeninsula.usnachapters.net/
As you review our calendar of upcoming events on the chapter site above, you will notice that we have scheduled a golf outing on July 9.  Before we enter into a contract, we need to determine what the interest level is.  Other local Alumni Chapters have had difficulty supporting a golf outing during the summer.
Accordingly, please let us know:
 Are you interested in attending a golf outing on

July 9

?
If you are, would you prefer Ford's Colony Golf Club in Williamsburg or an alternative golf course in the Yorktown/Hampton area.
Please make you responses to Howard Russell at hsrussell@cox.net by April 29.
One of the first things we have done is add a bi-monthly Happy Hour at 2nd Street Bistro in Kiln Creek, Newport News.  The next Happy Hour is May 12th 5:00 – 6:30.  This gives our Newport News, Hampton & Yorktown alumni a chance to join us after work occasionally.
Just this past weekend we visited Gauthier Vineyards in New Kent County.  Mo & Sandi Gauthier '69 hosted an excellent wine tasting.  We had over 2 dozen attendees.  Check out the pictures posted on our Chapter website.   
Gauthier Vineyards   A family-owned working farm, equestrian center,
Vineyard and Winery located in scenic New Kent County.
5000 Farmers Drive, Barhamsville, VA 23011
We just submitted a revision to our bylaws officially changing our name to "Virginia Peninsula Chapter".  This will better project our mission to reach additional Alumni for some comradery beyond James City County.
Our Chapter has 44 dues paying members.  Your $20 annual dues enable us to offset the cost of our Army – Navy Party, donate $300 to First Flight, $250 toward the Plebe Recognition Dinner each June and sponsor candidates interested in the Academy's Summer Sessions.  We also are in the process of acquiring new nametags for members & spouses at a cost of $12.50 each. 
If you haven't already, please send in your 2016 dues.  Currently we have over $4,000 in our treasury and we intend to finish each year with at least that much.
Dues should be sent to:
USNAAA Williamsburg Chapter
c/o Ben Francisco
3 Popeley Ct
Williamsburg, VA 23188
In September or early October we will conduct another Founders' Day event with Congressman Rob Wittman at Patriots Colony in Williamsburg.  The luncheon will again be free for members.
Keep an eye on our website for updates on all events.  http://vapeninsula.usnachapters.net/
Ben Francisco
President
VA Peninsula Chapter
USNA Alumni Association
Chapter President's Update 02-19-2016
Posted: 2/19/2016
Williamsburg – Virginia Peninsula Chapter
The Williamsburg Chapter's Board has decided to expand its area of participation to include the geographical area from New Kent County to Hampton and be more inclusive of all alumni. To reflect that change we are in the process of changing our name to "Virginia Peninsula".  Steve Jasper is developing our new website, check us out:  http://vapeninsula.usnachapters.net/
December 12th we met at the Governors Land Two Rivers Country Club for our annual Army – Navy game get together. This is a great setting with a fine view of sunset on the James River usually about the time Navy has beaten Army. For the first time in many years our comrades from West Point did not join us.  Maybe they will join us this next year since Army's chances of winning might be better?

As a part of our expansion Steve Jasper and Howard Russell hosted a Happy Hour at the 2nd Street Bistro in Newport News on Thursday January 28th.  We plan on doing this regularly on a bimonthly basis; our next one is on Thursday March 24th.  In attendance were Spence Witten'78, Kevin Joyce'03, John Hilt '59, Lou Gomez'85, Larry Raithel'76, Tim Moon'79, Chip Jones'79, Steve Jasper'74 and Howard Russell'71.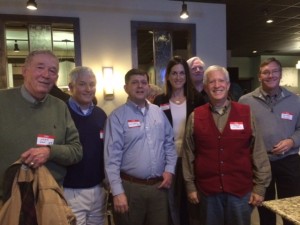 February 13th we held a Dark Ages Luncheon at the Peter Chang Restaurant (www.peterchangrestaurant.com ) in Williamsburg. Four members shared their stories of their new ventures in "retirement".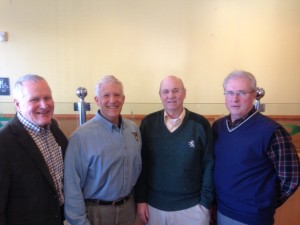 Al Whitaker'60 is an owner of our local microbrewery; AleWerks (http://alewerks.com/). Al explained his keen interest in beer from an early age, how AleWerks began, recreating the Colonial Williamsburg historical beers, AleWerks recent expansion with a tasting room / patio and plans for doubling their capacity this year.
Spence Witten'78 recently returned to Williamsburg. He explained and his current project of renovating the family home his Grandfather built and where his Mother was born.  Spence's family estate has 35 acres and will open as a Bed & Breakfast soon.  Meanwhile Spence also invested in an excellent new local restaurant: Cochon on 2nd Street. www.cochonon2nd.com
Bill Riffer'68 is very active in the William and Mary Christopher Wren Society (http://www.wm.edu/sites/cwa/?svr=web) as both an instructor and on the Society's management team. This is a very popular William & Mary offering for retirees to attend outstanding college courses.  Bill's "History of Submarine Warfare" fills up immediately each time it is offered.
Mo Gauthier'69 shared how he and his wife became owners of an Equestrian Center and Vineyard in New Kent County ( www.gauthiervineyard.com). We plan on visiting the Gauthier Vineyard on April 16th for a wine tasting and again October 8th when they cohost a Veterans benefit.  During the week Mo stays busy being the CEO of VSE Corporation.
Ben Francisco